Make sure you're ready and can still use the tools legally
The New Year is normally a time of change, and it is often no different when it comes to software. If you use one of Google's popular tools for ad management, updates are already on the horizon. In the following paragraphs, we provide a brief outline of what's coming and highlight the importance of using certified solutions.
Changes scheduled for 2024
According to Google's support website, starting from January 16, 2024, publishers and developers that make use of Google AdSense, Ad Manager or AdMob will have to use a Google's certified platform to manage user consent to remain able to display ads to users from the European Economic Area and the UK.
New requirements for Consent Management Platforms (CMPs) for acquiring user consent
The upcoming update will require CMPs to adhere to Google's certification criteria, with a particular focus on the Transparency Consent Framework (TCF) rules. However, Google support highlighted that not all TCF regulations will be taken into consideration in the certification process. As mentioned earlier, to continue to display ads for users from the European Economic Area and the UK, publishers and developers using AdSense, Ad Manager or AdMob will have to use a CMP platform certified by Google and integrated with TCF.
Google claims the company is cooperating with CMPs to award them the certificate as soon as possible. CMPs can register at Google and submit a request to receive certification. Google then contacts the candidates and explains subsequent steps.
The certification process began in May 2023. In a statement, Google encourages publishers already working with a CMP to talk with their providers about the certification process to make sure the transition goes smoothly. Those publishers that use their own CMP should apply for certification, while those without a CMP, should consider finding a partner from Google's list of certified CMPs. The list is updated on a regular basis as more providers receive certification.
Certified solutions – and why you need them
Without a Google-certified Consent Management Platform, starting from January 16, 2024, you will not be able to advertise with Google. It's that simple.
You can find a list of TCF-certified CMPs here: https://iabeurope.eu/cmp-list/
createIT is happy to inform the users of their Ultimate GDPR & CCPA plugin that with update 5.0, the solution has also received TCF certification: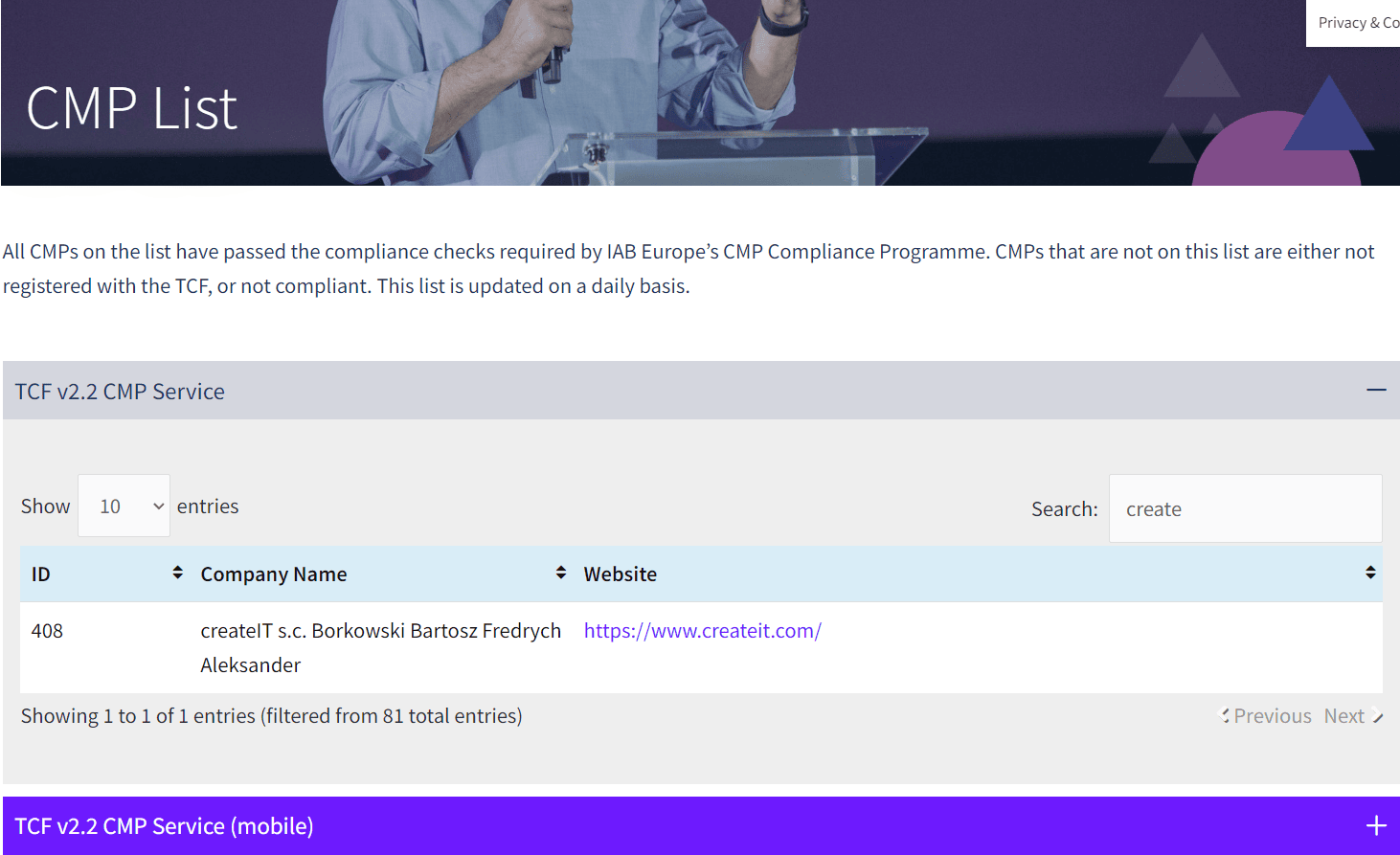 Advantages of a Google-certified CMP plugin
In the following paragraphs, we explore other advantages that eCommerce businesses get by embracing a Google-certified solution, with an emphasis on GDPR, especially if a company aims to expand, enhance performance, or venture into new markets.
One of the primary benefits is the instant boost in trust and credibility. In a world where data privacy is a growing concern, customers appreciate brands that prioritize their privacy. By showcasing the Google certification, eCommerce businesses can assure their customers that their data is handled with the utmost care, fostering trust and loyalty.
For eCommerce companies eyeing international markets, compliance with diverse privacy regulations is crucial. A certified CMP plugin simplifies this process, making it easier for businesses to expand into the European Economic Area and the United Kingdom. With GDPR and CCPA compliance, businesses can confidently tap into these lucrative markets.
A compliant website with a user-friendly consent management system ensures a seamless browsing experience. A certified plugin gives customers control over their data and provides them with transparency, resulting in a more positive user experience. Happy customers are more likely to make purchases and become regular buyers.
Efficient data management is at the core of successful eCommerce. With the Google-certified CMP GDPR plugin, businesses can collect and process user data legally, creating opportunities for highly targeted and effective marketing campaigns. This, in turn, drives higher conversion rates and increased revenue.
Non-compliance with data protection regulations can lead to substantial legal risks and financial penalties. By adopting a certified CMP solution, eCommerce businesses can mitigate these risks, avoiding costly legal entanglements and preserving their brand's reputation.
Lastly, in a competitive eCommerce landscape, standing out is a challenge. A Google-certified GDPR plugin is not only a compliance tool, but also a differentiator. It demonstrates a commitment to data protection and compliance, which can set your eCommerce business apart from competitors, attracting customers who prioritize privacy.
Conclusion
The implementation of Google's Certified CMP GDPR plugin is a strategic move for eCommerce businesses looking to grow, improve performance, or enter new markets. Failure to adhere to the new requirements may result in penalties, including fines and restrictions on ad-serving capabilities. By prioritizing data privacy and compliance, eCommerce businesses gain the trust of customers, open doors to international expansion, enhance user experience, enable data-driven marketing, reduce legal risks, and gain a competitive edge. Embracing a certified solution is not just a legal obligation, it's a pathway to eCommerce success in a data-driven world.