Introduction
With so many ecommerce platforms available, it may not be easy to select the best one for your particular online store. In this article, we will focus on Magento and several other ecommerce tools – Shopify, WooCommerce, BigCommerce and Wix eCommerce – presenting the pros and cons, similarities and differences between Magento and other popular solutions.
Magento vs Shopify vs other ecommerce platforms
Pricing
We'll begin with the financial side. Magento open source is free to download and offers basic functionalities, but costs include web hosting, design, security, web development and any integration-related fees. High performance will require investment in a good hosting provider. It will be an ideal solution for small size ecommerce businesses or for those taking their first steps in the field to test the capabilities. The advanced version, formerly known as Magento Enterprise Edition and now as Magento Commerce, is a paid service, adequate for large scale businesses. In general, the costs of Magento are reasonable and depend on the type of the ecommerce business.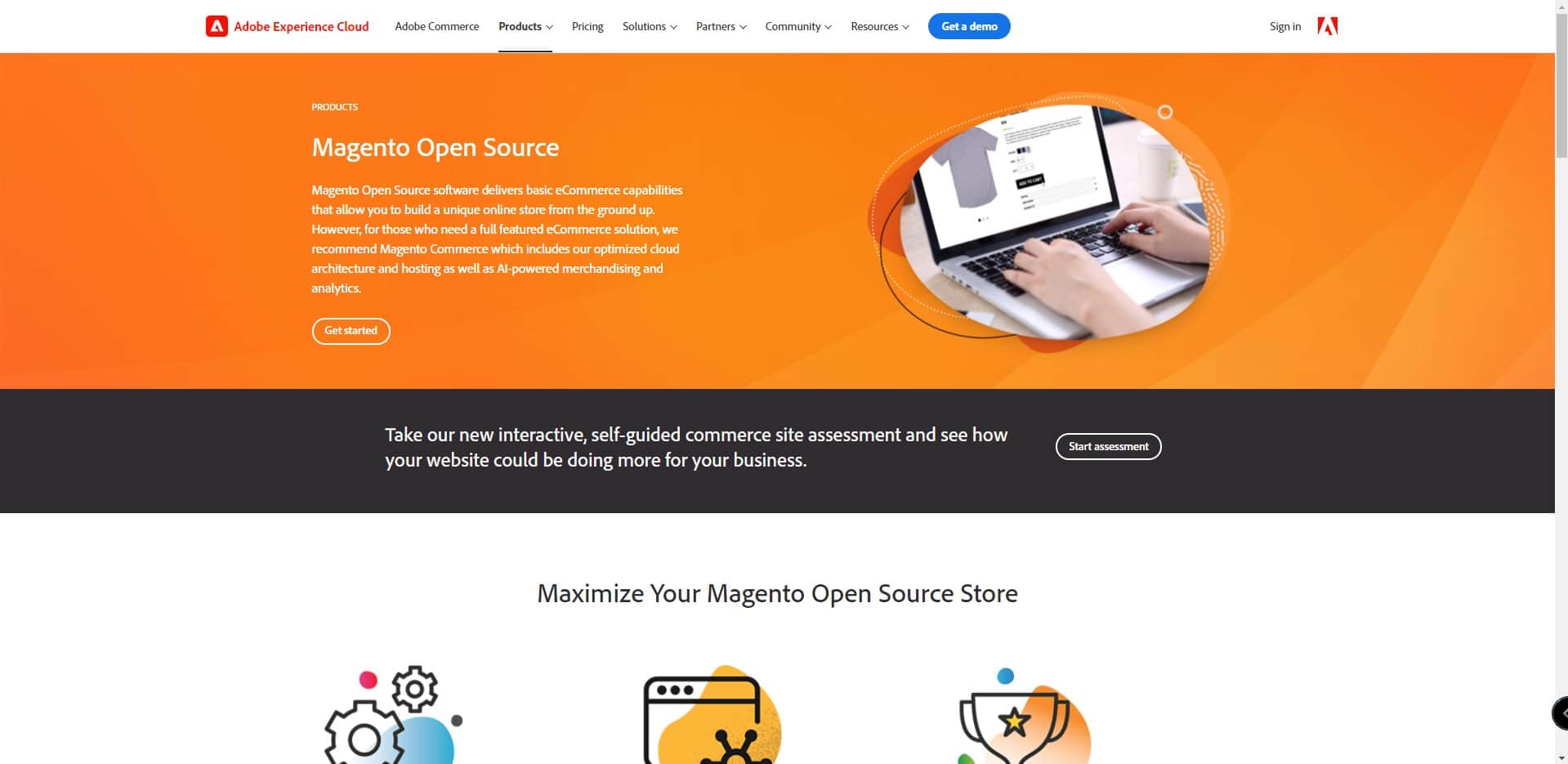 In comparison, right now (November 2021) Shopify offers a free trial period of 14 days, followed by one of three subscription plans – USD 29/month for a new ecommerce platform, USD 79/month for growing business, and 299/month for scaling business requiring advanced functionalities.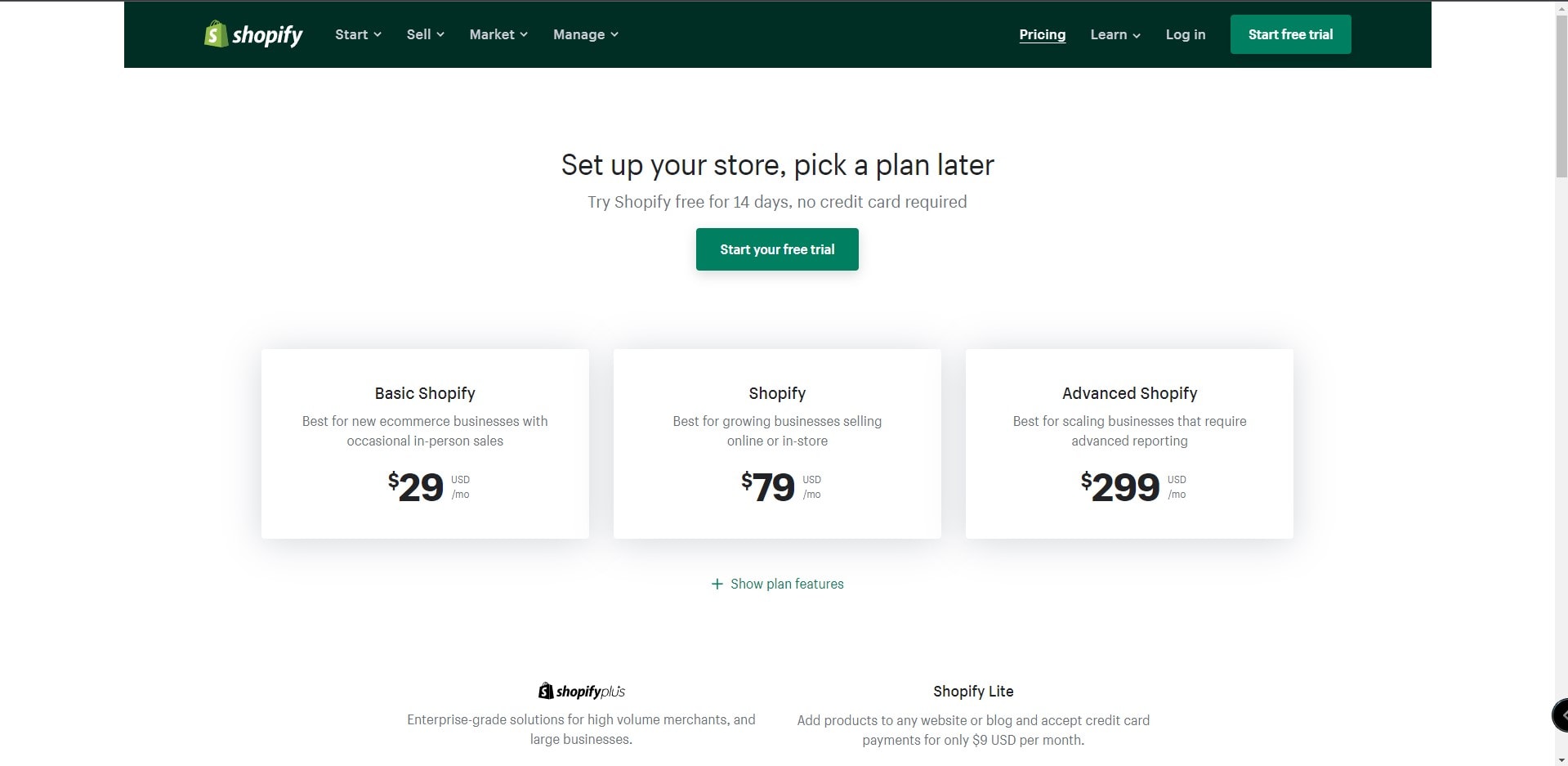 WooCommerce is a free WordPress plugin, but there are still some unavoidable fees, such as hosting costs, SSL certificates, etc. Plus, sooner or later you will want to make use of at least some of the paid extensions and features.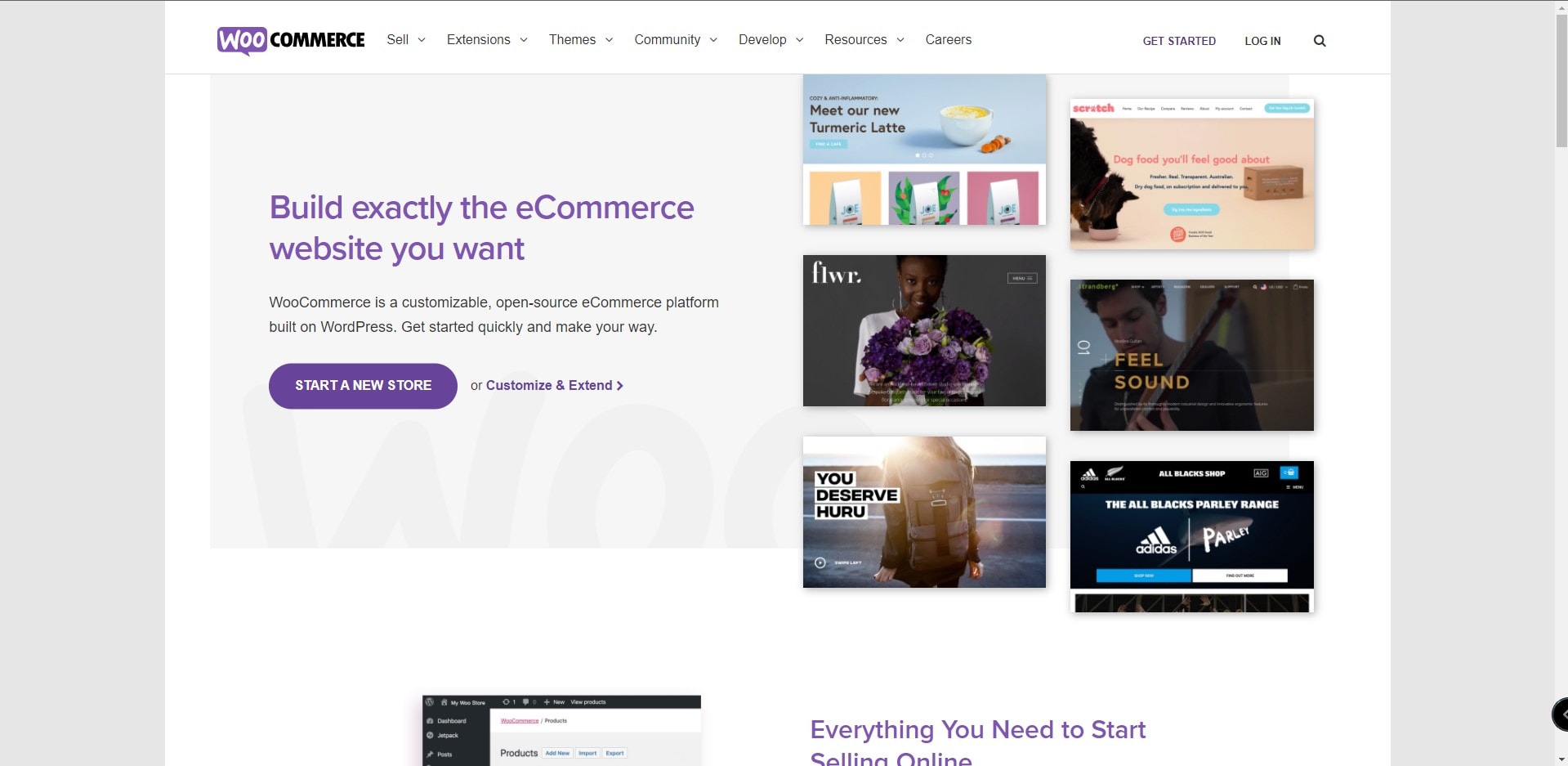 BigCommerce pricing is nearly the same as Shopify's, with three subscription plans – Standard, Plus and Pro, a similar monthly payment, as well as a free 15-day trial.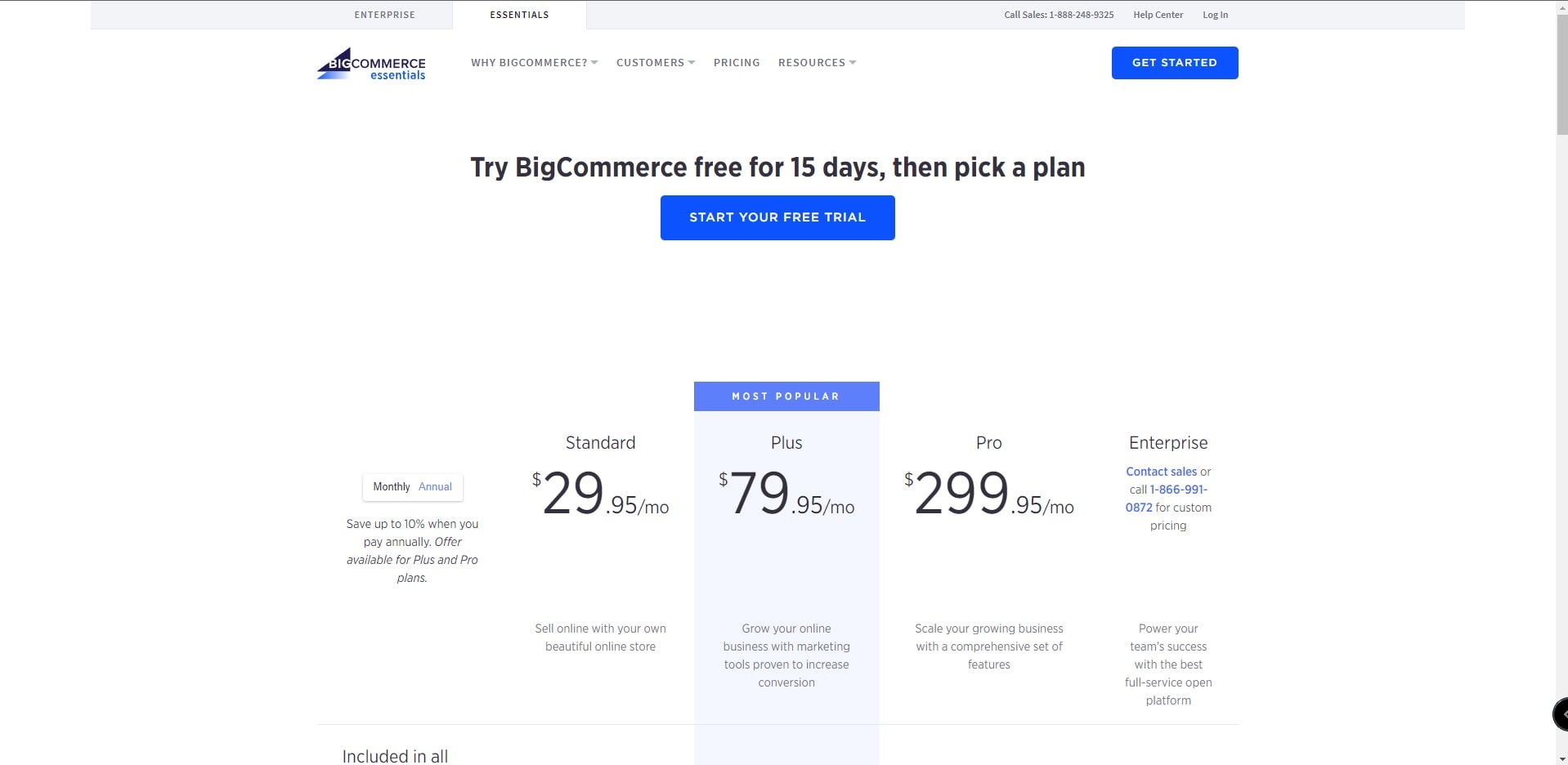 Wix eCommerce also offers three subscription tiers, currently with slightly lower prices than the two aforementioned solutions – USD 23/27/49 per month.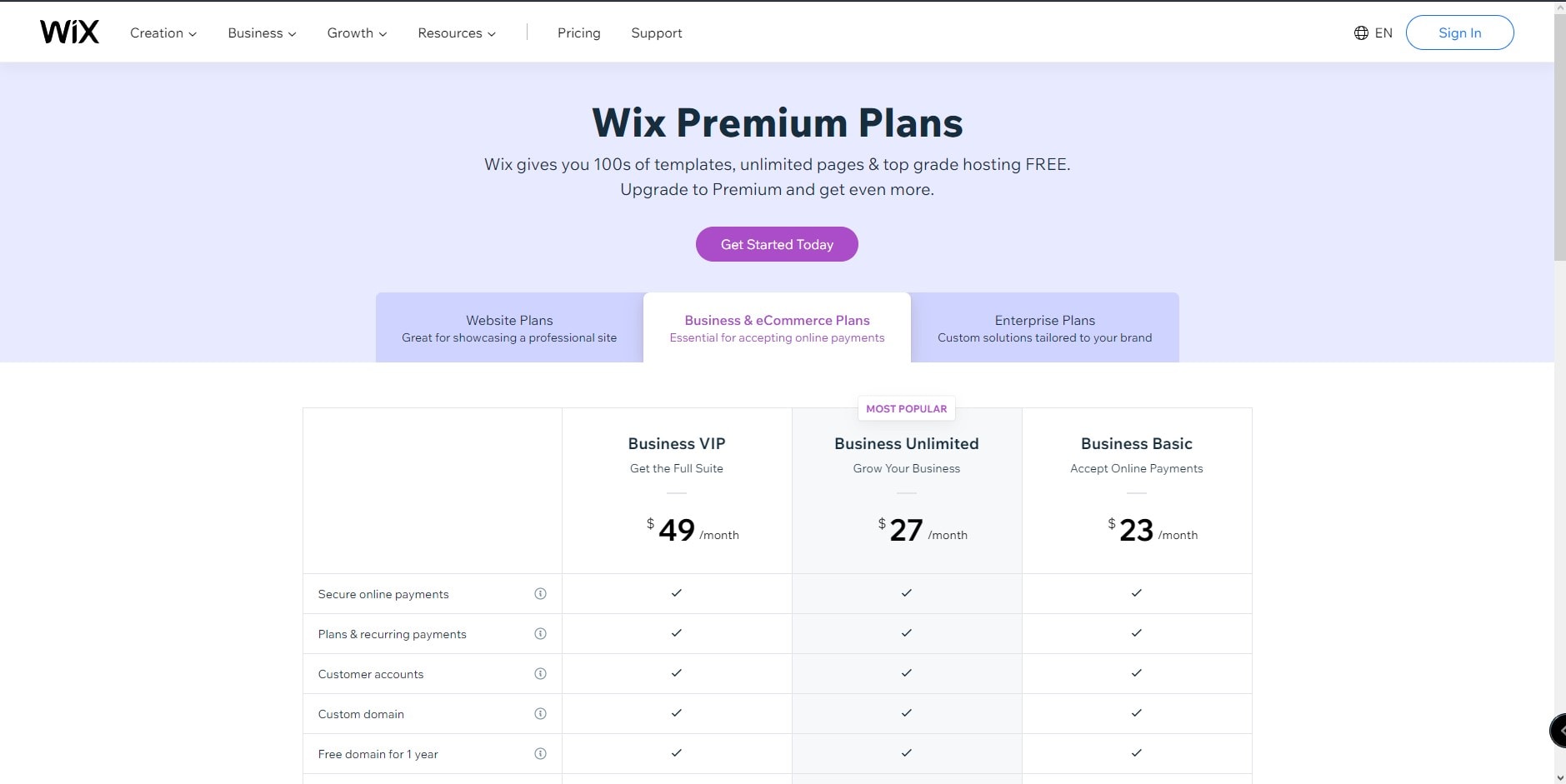 Installation, configuration and ease of use
Both Magento and Shopify have been around for well over a decade and their developers had more than enough time to come up with a clear and generally friendly user interface. For those with technical knowledge, Magento offers the most out of all ecommerce platforms. Full access to the source code of the shop is a big advantage over such solutions as SaaS and Shopify. With the complexity and possibilities of Magento, it is best to consult specialists to properly configure and initialize the platform, and to learn how to fully use its features to gain an edge over other solutions.
Shopify has a wizard functionality, guiding inexperienced users in their first steps to set up their online stores, which might be an attractive option if you are trying to do everything all by yourself. This advantage means little when you have a development agency doing the work for you.
When it comes to ease of use, WooCommerce is probably the winner, especially because it is simply a WordPress plugin. If you are already familiar with WordPress, then it should be quite easy to learn and use WooCommerce.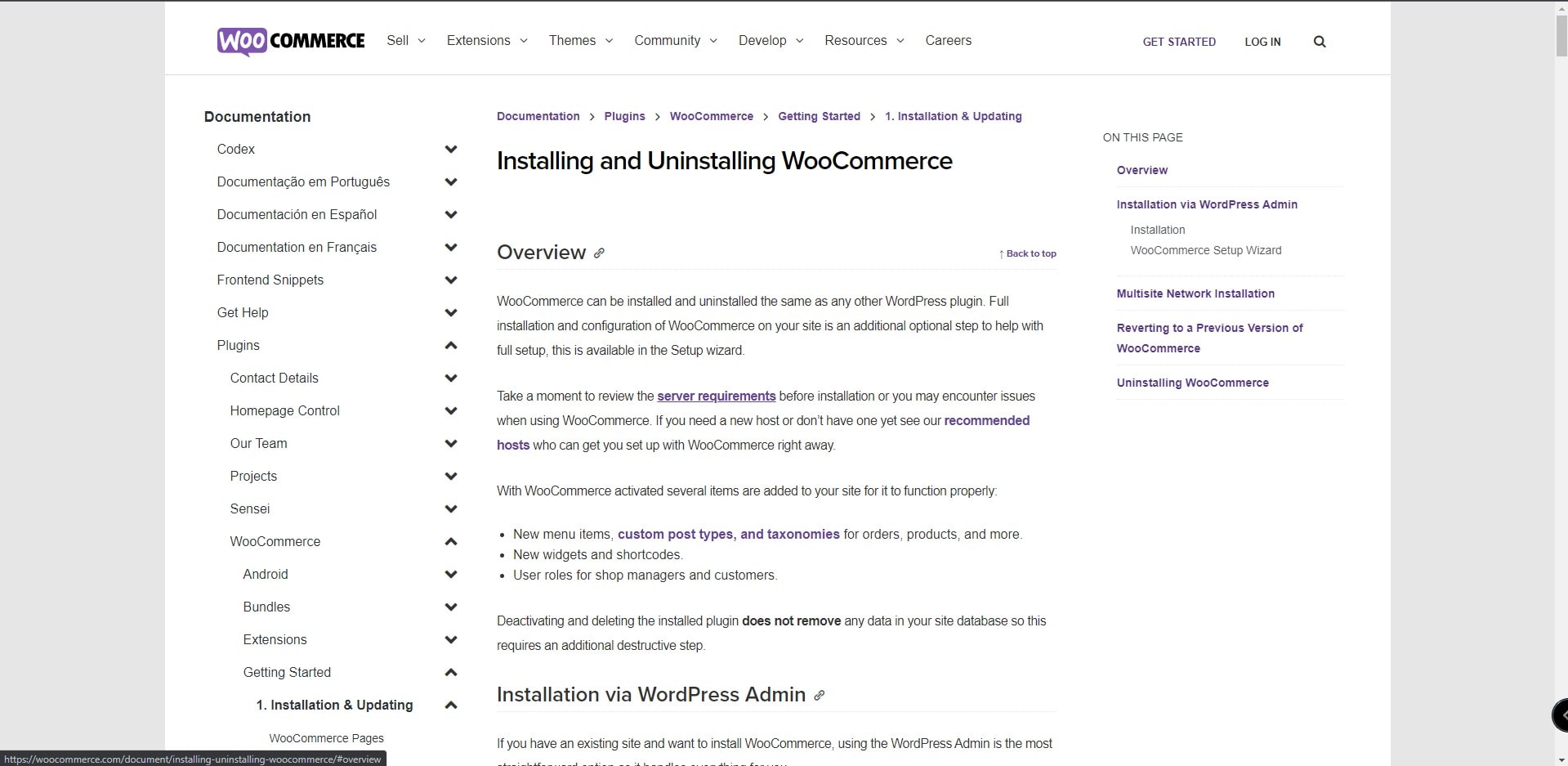 It is also worth mentioning Wix eCommerce. With their drag-and-drop functionality, designing an ecommerce store can hardly get any easier.
Support
The degree of support one can get when using Magento strongly depends on whether we choose the free or paid version. There is no guaranteed support when using Magento Open Source, simply from the nature of the product, but detailed help can be obtained through the huge community. There is an option to submit a support ticket, as well as a rich knowledge base. The Magento Commerce edition – which is the paid version – features in-depth support on any issue one might have.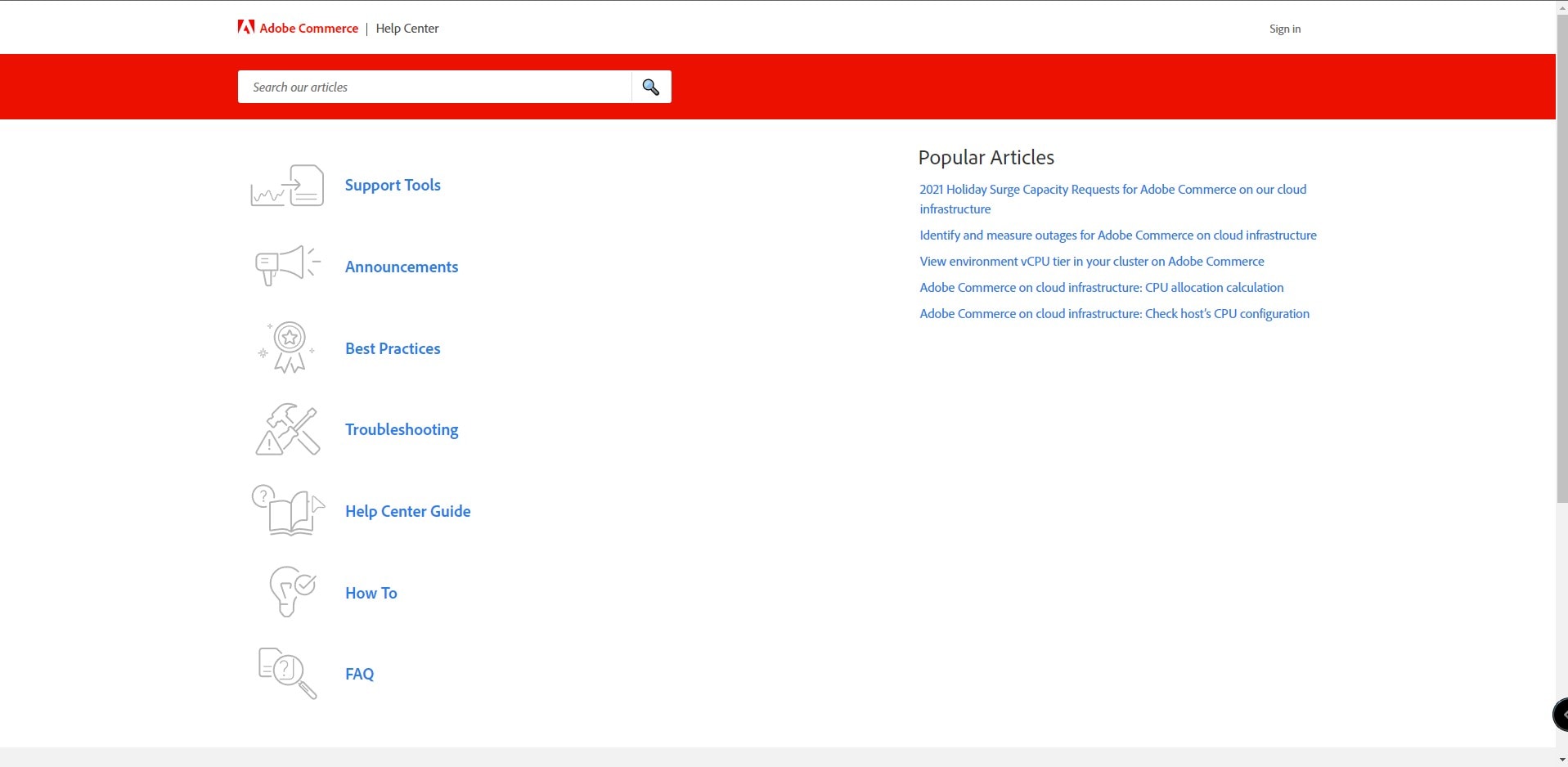 Like any good paid service, Shopify offers technical support to their customers, alongside a YouTube channel with a lot of video tutorials. The community is also a great source of knowledge.
WooCommerce offers an option to submit a support ticket to get help with the biggest problems and you can always ask the community for advice.
BigCommerce provides some of the best tech support out there, with various channels of communication, including phone, email, live chat, in-depth resources and a big forum.
Wix Customer Care program also offers many channels of support to choose from, not unlike BigCommerce, and the platform's database is similarly rich in knowledge.
Security
Magento constantly releases security patches, ensuring the highest possible level of protection, with such solutions as password encryption and checkout recaptcha, as well as other layers added in the 2.4 update.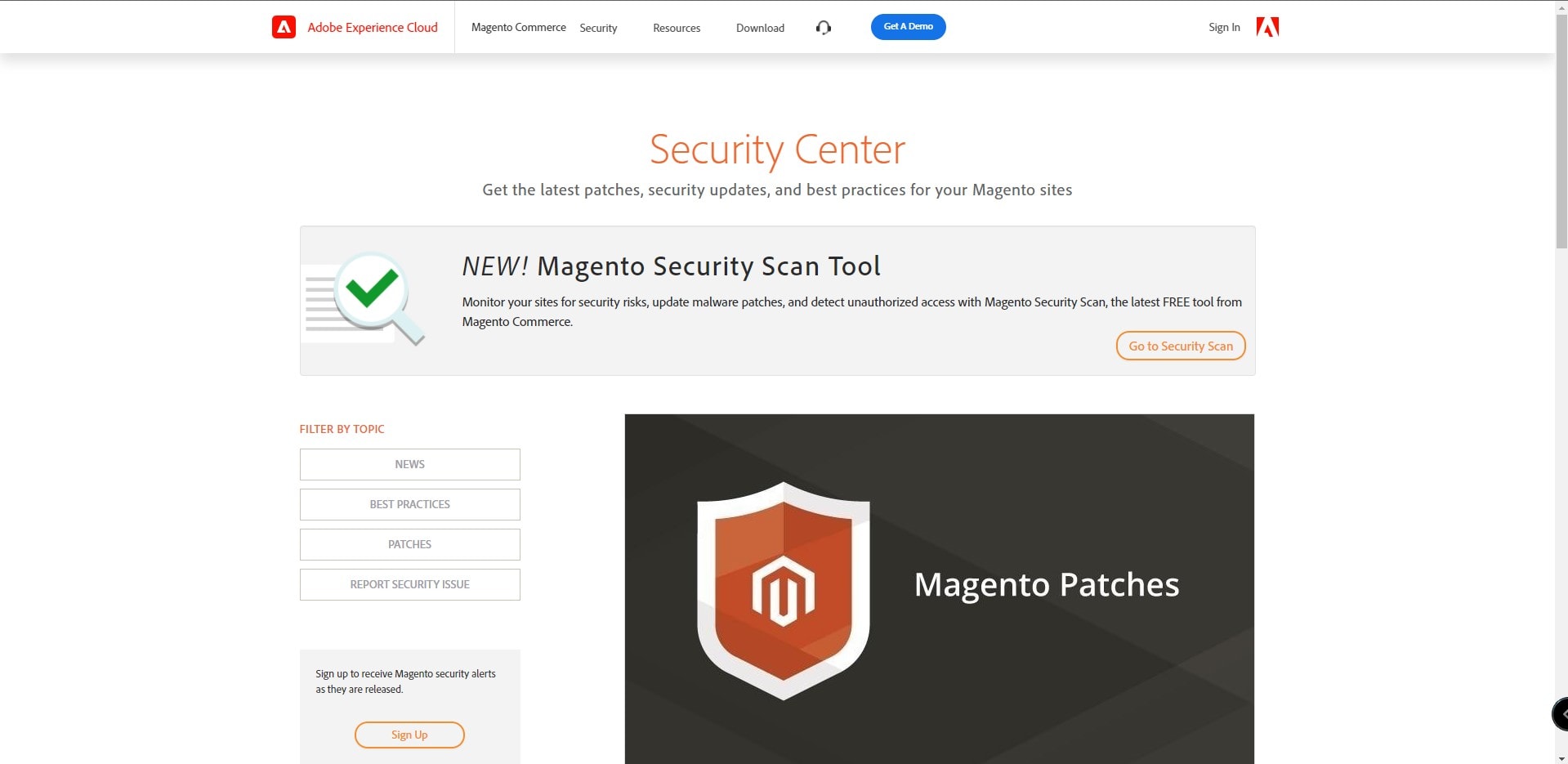 However, security is also a priority for the other ecommerce platforms on our list. Without adequate statistical information on the results of their security solutions, it is difficult to choose one that particularly stands out from the crowd.
There is no denying that when it comes to security, we would put Magento developers on top of the list.
Themes, customization and functionality
Both Magento users as well as enthusiasts of the remaining solutions receive all the tools they need to set up and run an online store, most of the differences between the platforms are in the form of these solutions. There are both Magento and Shopify themes, but while Shopify's additional functionalities often ask for the installation of an extension, many of those features may already be included within Magento, with Magento extensions providing further customization capabilities. Magento has a dedicated marketplace for extensions and themes. Similarly, a lot of useful solutions can be found in the Shopify app store.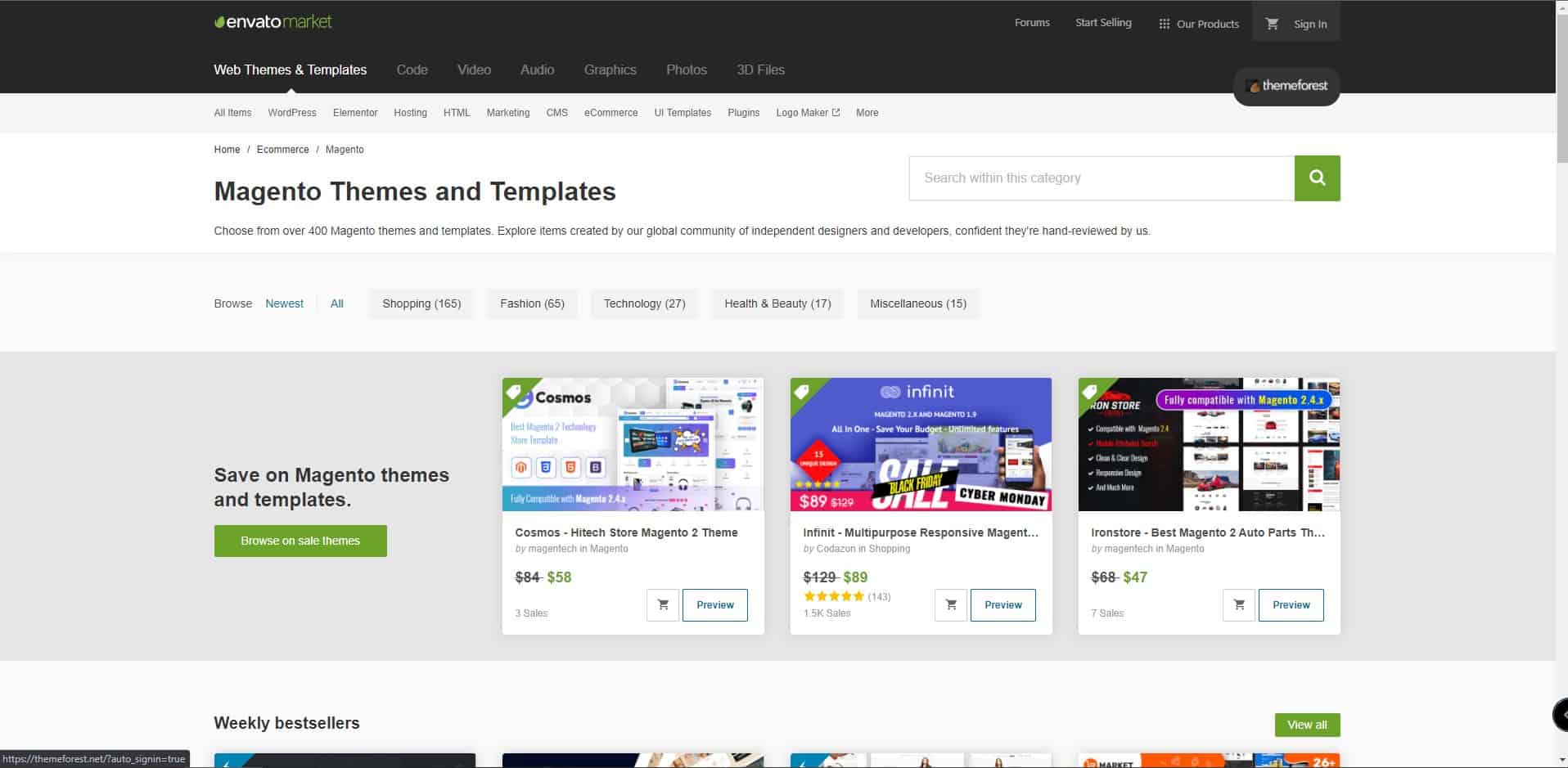 BigCommerce already offers a lot of built-in features, taking away some of the financial burden.
Wix eCommerce is the youngest of the listed ecommerce solutions as it was released in 2020. It also features a market with custom apps, but there are currently only about 300 of those, which is a small number compared to thousands of add-ons for Magento merchants and a similar number of apps in the Shopify store.
Payment processing
In terms of online payments, every solution offers more than one payment processor, aiming for the most popular gateways for specific countries. However, Shopify payments seem to have a slight edge in this respect, as the number of available payment processors listed on the official website goes beyond 100, the highest of any of the listed ecommerce platforms. One has to bear in mind the possible transaction fees, so every payment processor should be carefully verified before implementation.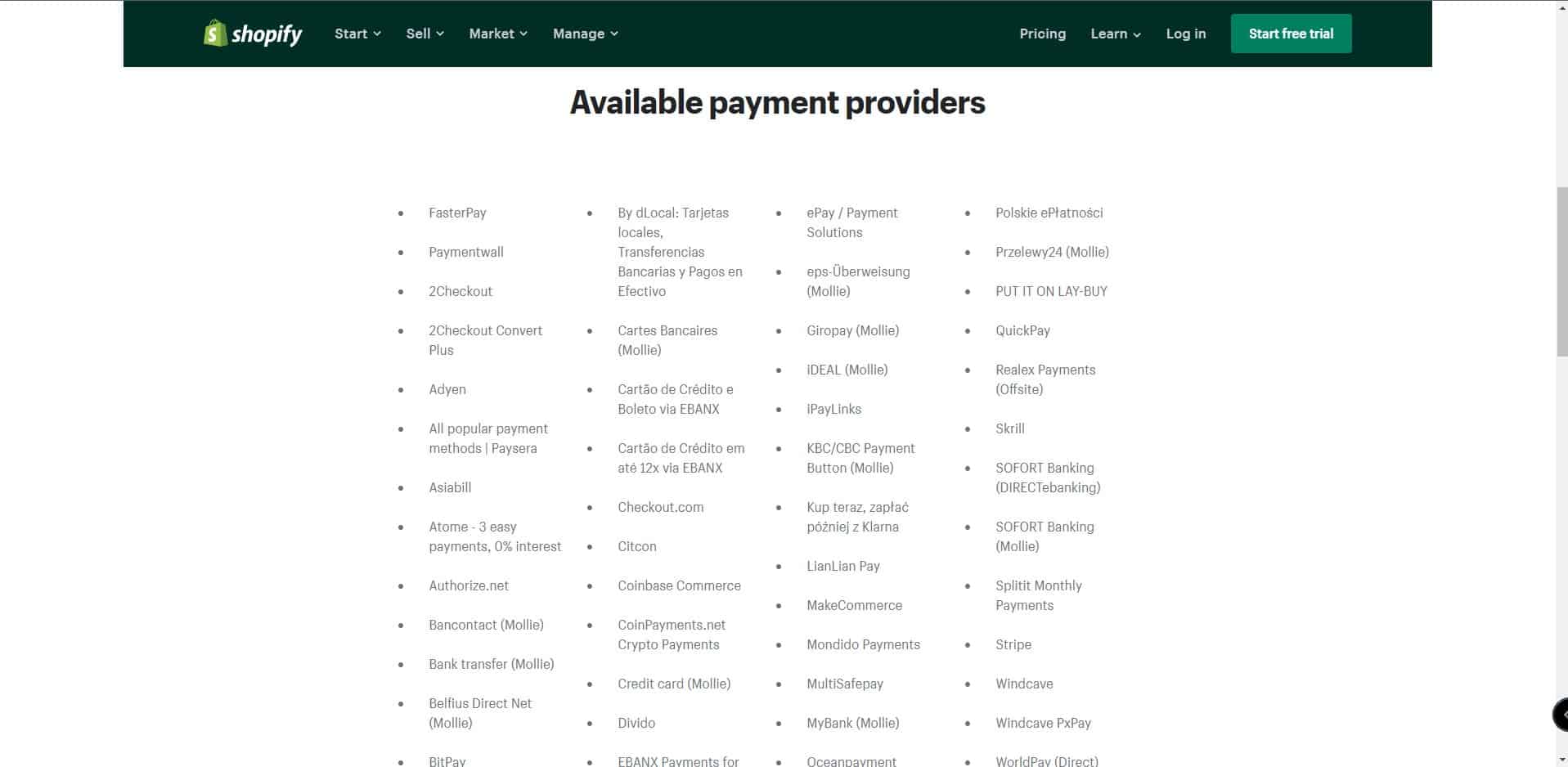 SEO
Search Engine Optimization is the key to success for any online commerce platform. All of the listed solutions provide substantial SEO capabilities, with a small exception of Wix for which we simply do not currently have any data. Regardless of the profile of an online business, without effective SEO activities platforms will exist online almost only in theory. Be sure to include SEO in your development costs, and seek the help of trained professionals to suggest and/or implement the solutions for you to make sure your website is visible online. Magento is very well optimized for search engines.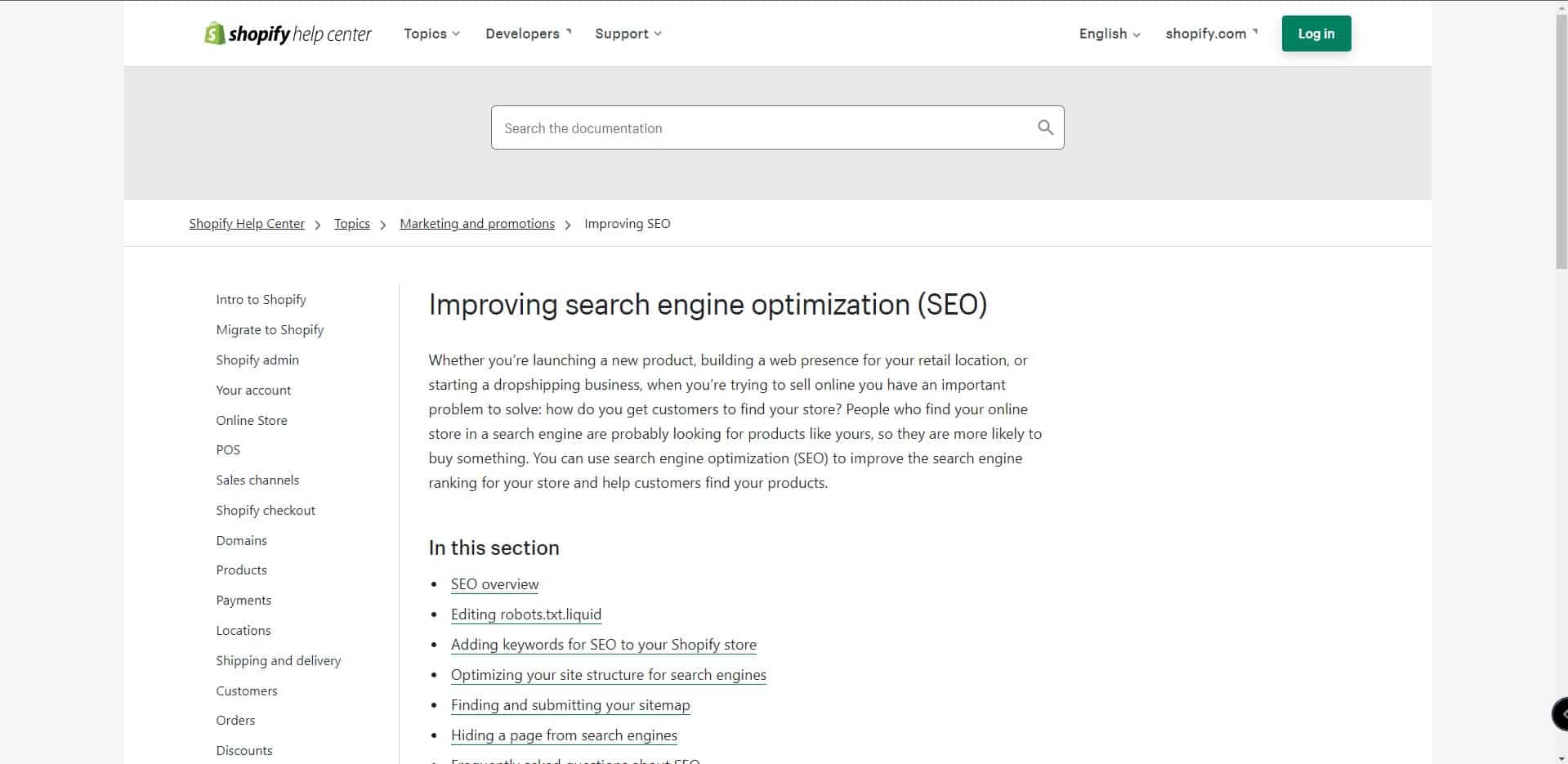 Performance
The basic condition affecting the performance of the listed ecommerce platforms will be the number of used add-ons, extensions, apps, etc. As for Magento, the periodic updates roll out performance improvements, with version 2.4 improving the retention of shipping and billing data, better address system and further optimizations to page load time. Both Shopify as well as the remaining ecommerce platforms recognize the need for making solutions that are responsive both on mobile and desktop. We would argue that experience comes with years and as such both Magento and Shopify may be your best bet in terms of performance, stability as well as security.

Magento-Dev's superpowers vs Magento issues – How we solve our clients' problems
It is often the case that our clients require very individual systems – solutions that are so unique they are not featured in popular ecommerce platforms. One company needed a solution that would fill their platform with data coming from other systems. There was no way to achieve this through the client's preferred method using the available functionalities of the platform. Our solution to the issue was to write a custom PHP "module" for Magento that worked exactly as the Client wanted.
Let's have a look at some other example cases we solve for our Clients:
Case 1
Our Client wants to integrate his store with a warehouse management program. Many Clients who sell a wide range of products use advanced systems to service orders and warehouses (e.g. Subiekt GT, Comarch Optima), which is why they often want to have a connection to the internet store enabling the automatic synchronization of warehouse systems, the import of shop orders to their internal system, or even the export of products from the system to the store and vice versa. To meet Client needs:
we prepare a dedicated solution adapted to the needs and requirements of the Client
we use ready-made mechanisms and solutions to optimize the costs of service and integration
Case 2
When a Client requests a fast internet store, the first step on our part is the audit of the existing internet store along with recommendations for improvement. Next, we recommend the best high-performance server with the administration option. We prepare the store basing on good practices that influence high performance, such as: the use of cache, Cloudflare, the optimization of image size, the minification of scripts, the reduction of unused JS/CSS code. Finally, we perform another analysis of website speed after the implementation of changes.
Case 3
The Client would like to improve the positioning of his store. In this case, first we perform an SEO audit of the store. We use the Magento platform to properly position products through the selection of appropriate categories, the category tree, category description and unique product descriptions. We also expand the store by adding a blog with specialist articles. Finally, we add Google Schema/structured data to the store.
Case 4
Sometimes all the Client wants is to speed up the payment processing at his store. In such a case, we offer the configuration of Magento modules that support swift payment. One such solution is tpay.
Conclusion
With over 13 years on the market, Magento stands out as the most advanced, complex and feature-rich ecommerce platform, capable of providing the best solutions for both small scale businesses and large enterprises. With the right people at the helm of the project who are capable of fully realizing Magento's potential, there are almost no limits to what can be achieved, leaving simpler ecommerce solutions behind.
If you are thinking about creating a next-level eCommerce platform, look no further. Get in touch with us and let's get to work on your next project!